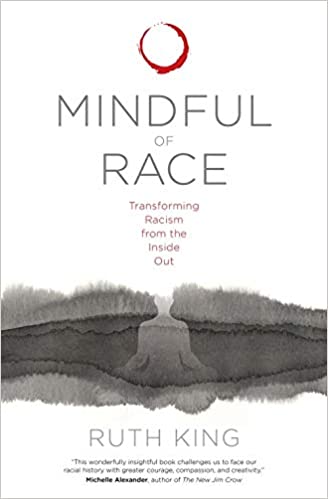 Mindful of Race Book Study and Practice Group - Online Program
with Karen Monahan, Sarah Chandler, Kathy Bither
Mindful of Race Book Study and Practice Group
Mindful of Race: Transforming Racism from the Inside Out by Ruth King
Saturdays, April 3-May 22, 10 am-noon
"A brilliant and unique addition to the struggle for racial justice." --Robin DiAngelo, author of White Fragility
"Our world needs this book. Please read with a receptive heart and share with all you know!" --Tara Brach
This group will meet for eight Saturday mornings in April and May to read and discuss this book and to engage in the powerful contemplations and practices it offers. These include sitting and walking meditation, metta or kindness--for ourselves, difficult others, and for the world--and the RAIN practice: recognize, allow, investigate, and nurture.
King believes that "racism is a heart disease, and it's curable." Her book provides a guide for examining our racial conditioning and better understanding the ways in which we harm, blame or distrust each other and avoid more genuine connection and healing. We must be willing to be uncomfortable, King says, if we are to transform our hearts, and advises us not to be afraid of getting our hearts broken.
"The end game of being mindful of race is not that we all get along or love each other because we are told it's the right thing to do. It's more about an ever-growing awareness of how we impact and care for each other."
Please consider joining us on this journey of exploring our hearts and minds and expanding our mindfulness and awareness of race, in the company of each other. This group is open to all—those with no meditation experience as well as experienced meditators are welcome. Meditation instruction and support will be provided. Conversations will be facilitated by Kathy Bither, Sarah Chandler and Karen Monahan.
About the author: Ruth King is an international teacher in the insight meditation tradition. For many years, she coached leaders on transformative leadership, workplace trauma, and diversity awareness. She currently teaches the Mindful of Race training program nationwide. She is also the author of Healing Rage: Women Making Inner Peace Possible. Learn more at ruthking.net