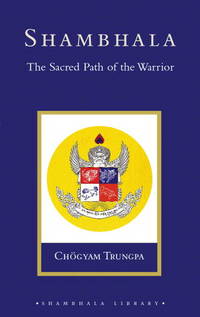 Shambhala Sacred Path of the Warrior- ONLINE
with Shastri Christopher St. John
Chogyam Trungpa wrote Shambhala the Sacred Path of the Warrior in 1984, "to present the vision of Shambhala. It is what the world needs and what the world is starved for."
He writes how the practice of meditation can be the foundation of a life of fearlessness and rejoicing even in the darkest days of plague, famine, and war.
Whether you have heard these teachings before or are encountering them for the first time, we invite you to join us to reexamine them as a guide through our particularly challenging times.
The group will meet on zoom on six Wednesdays 6:30-8:30 pm, Feb. 17- March 24.
Each class will include instruction and practice in sitting meditation, and a discussion of how we find the book's teachings entering our daily life experience.
The class will be facilitated by Shastri Christopher St John, who has been practicing and studying the Shambhala teachings since 1985.