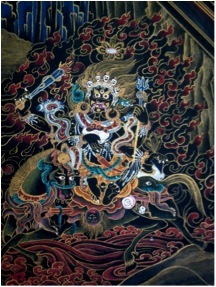 Pacifying the Turmoil of the Mamos- Brunswick
with Shastri Christopher St. John
The period just before Shambhala Day, the first day of the Tibetan New Year, is regarded as a time when one is more susceptible to döns. Döns refer to sudden physical and psychological attacks of depression, resentment, anger, or other negative emotions—like an unpredictable flu that overcomes us. The "dön season" is a particularly good time to work with these obstacles.
In order to avert whatever negativity has accumulated during the year, we will practice the Mamo Chants. The mamos are powerful worldly dharma protectors; they can be motherly or sisterly or fearsome. When we lose awareness, some kind of reminder occurs, which is often painful; this is mamo energy. We practice the mamo chant in order to pacify the turmoil of the mamos by waking up.
The Mamo Chant practice takes about an hour.
Please join us for any or all of the scheduled practices.