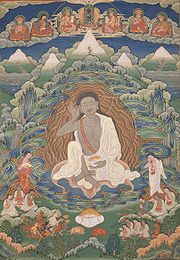 Milarepa Day- 2020 in Brunswick
with Shastri Christopher St. John
Milarepa Day is our annual day-long celebration of the enlightenment and life example of Milarepa, one of the great Kagyu Lineage forefathers, who is famous for his profound songs of realization.
The celebration consists of reading aloud of the songs of the lineage fathers in The Essence of the Ocean of True Meaning, known to us as The Rain of Wisdom. This collection was first compiled by Mikyö Dorje, the eighth Karmapa.
It's said that you could get enlightened just by reading The Rain of Wisdom - it's a collection of the enlightenment songs of the Kagyu yogis, from centuries ago up to now.
These songs are the direct personal voices of the lineage holders, sharing their experiences of the path, practice, and realization. In chanting them, we attune our minds to theirs, invoking the inspiration of their sanity and devotion.
The morning's schedule begins at 9:00 AM and runs until about 12:00 PM. If you have a copy of the book " The Rain of Wisdom' please bring it with you.
Everyone is encouraged to participate wholeheartedly in this inspiring celebration of awakened mind passed down to us directly from Tilopa, Naropa, Marpa, Milarepa, Gampopa, and the rest, in the unbroken transmission from teacher to disciple, right to the present day.
It's always a powerful practice, and very exhilarating.
There is no charge and the practice is open to everyone.