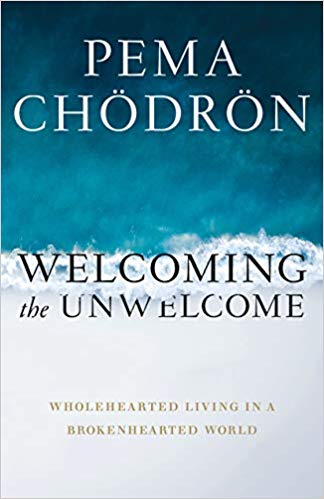 Pema's New Book- Welcoming the Unwelcome- in Brunswick
with Kathy Bither & Sarah Chandler
Pema Chodron's new book, Welcoming the Unwelcome, is an open-hearted call for human connection, compassion, and learning to love the world just as it is during these most challenging times.

Together, we will explore and discuss Pema's first new book of spiritual teachings in over seven years.
Pema Chödrön offers a combination of wisdom, heartfelt reflections, and the signature mix of humor and insight that have made her a beloved figure to turn to during times of change.
In an increasingly polarized world, Pema shows us how to strengthen our ability to find common ground, even when we disagree, and influence our environment in positive ways.
Welcoming the Unwelcome includes teachings on the true meaning of karma, recognizing the basic goodness in ourselves and the people we share our lives with.
This program will also provide basic sitting meditation instruction.
Generosity Policy:
The Brunswick Portland Shambhala Center is funded solely by your membership and program donations. Thank you for your generosity as you consider what you can pay for each program at our Center. We strive to price our programs in a way that accurately reflects the financial need of our Center and the cost to us of producing the program.
We have a generosity policy to make our offerings available to all who wish to participate. If the program price is an obstacle for you, please consider what is possible for you in your current situation, and offer as much of the program fee as you can.
For those who can offer more than the program price, we have a "patron price". Your generosity in offering the patron price helps cover the costs for others who are not able to pay the full price.